Leaf is a unique formal dining chair. It was engineered and crafted as a solid designer dining chair, which can be folded effortlessly to 0.625 inches flat silhouette. Leaf is orders of magnitude more compact than any other dining folding chair ever made.
Folditure's patented folding mechanism allows the Leaf to have true dining proportions and tall ergonomic backrest, and still fold effortlessly with a flick of the wrist.
Rigid aluminum composite panel body, aircraft grade stainless steel rivets and stainless steel hinges - the Leaf is precision hand-crafted for indoor and outdoor use. The seat is a relaxing, yet sturdy and resilient mesh fabric.
Leaf is so comfortable and sculptural that it is most often enjoyed as a permanent dining chair, with the extras for guests hanging elegantly in the closet or on the wall. With its stunning looks it certainly makes a statement and is a great conversation piece!
The chair pops open with a simple flick of the backrest.
No assembly, bending down, nothing of the sort. Snap - and you have a chair.
Closing is equally easy. Just press the release button on the backrest, and flip closed.
It's super thin!
At less than 3/4 of an inch when folded (2 cm), and perfectly flat - the Leaf is probably the most space saving folding chair ever made.
Add to that the convenience of hanging on a rod. Have you ever seen folding chairs stacked against each other in an ever slipping and sliding arrangement? The leaf is made to hang neatly in a standard 24" depth (60 cm) closet.
A set of 4 chairs takes up approximately 3 inches of closet space (7.5 cm) - less than a winter coat!
Choose from different seat colors.
We have carefully selected attractive, sturdy and resilient mesh fabric to match your ambiance.
Please note that you can purchase additional seats as they are designed to swap easily.
Custom colors are also available. Please inquire for details.
The lightweight and strong Aluminum Composite Panel is the frame material of the leaf.
The frame is currently available in a stylish Matte Silver finish.
The Leaf's backrest panel can be left exposed, for a "raw" industrial look.
Or, optionally, the backrest can be covered with a high quality color laminate. (To match the table top surface of the Cricket)
Choose from different seat colors.
Attractive, and sturdy outdoor mesh fabrics to match your color schemes.
You can select which color insert your chair comes with, and purchase additional seat inserts separately.
Custom colors are also available, please inquire for details.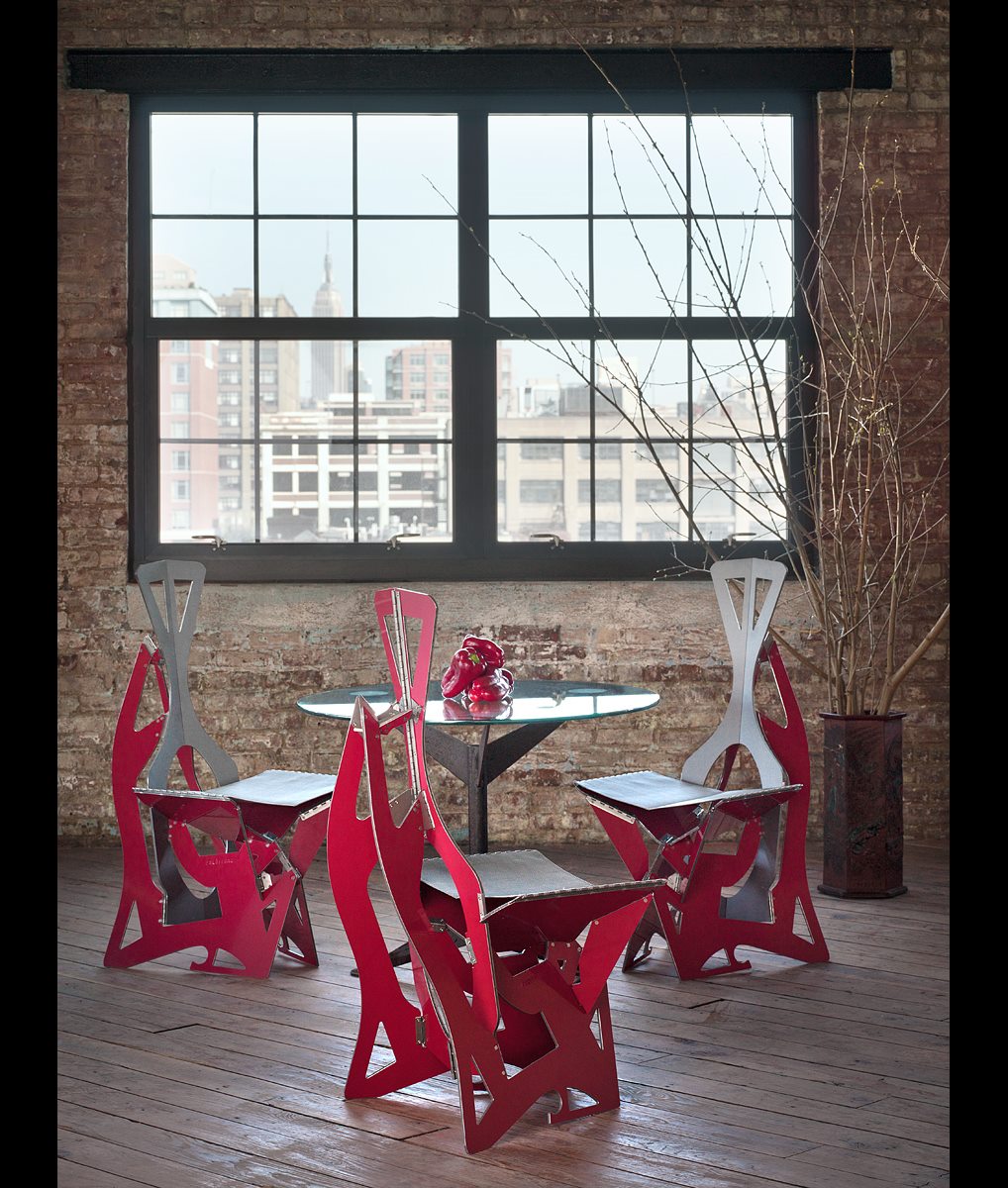 "I love your (Leaf) chair and so does everybody else that sees it. I have never seen anything like it. it's beautiful, abstract, a work of art truly. I am really enjoying it"
Janna W., Seattle, WA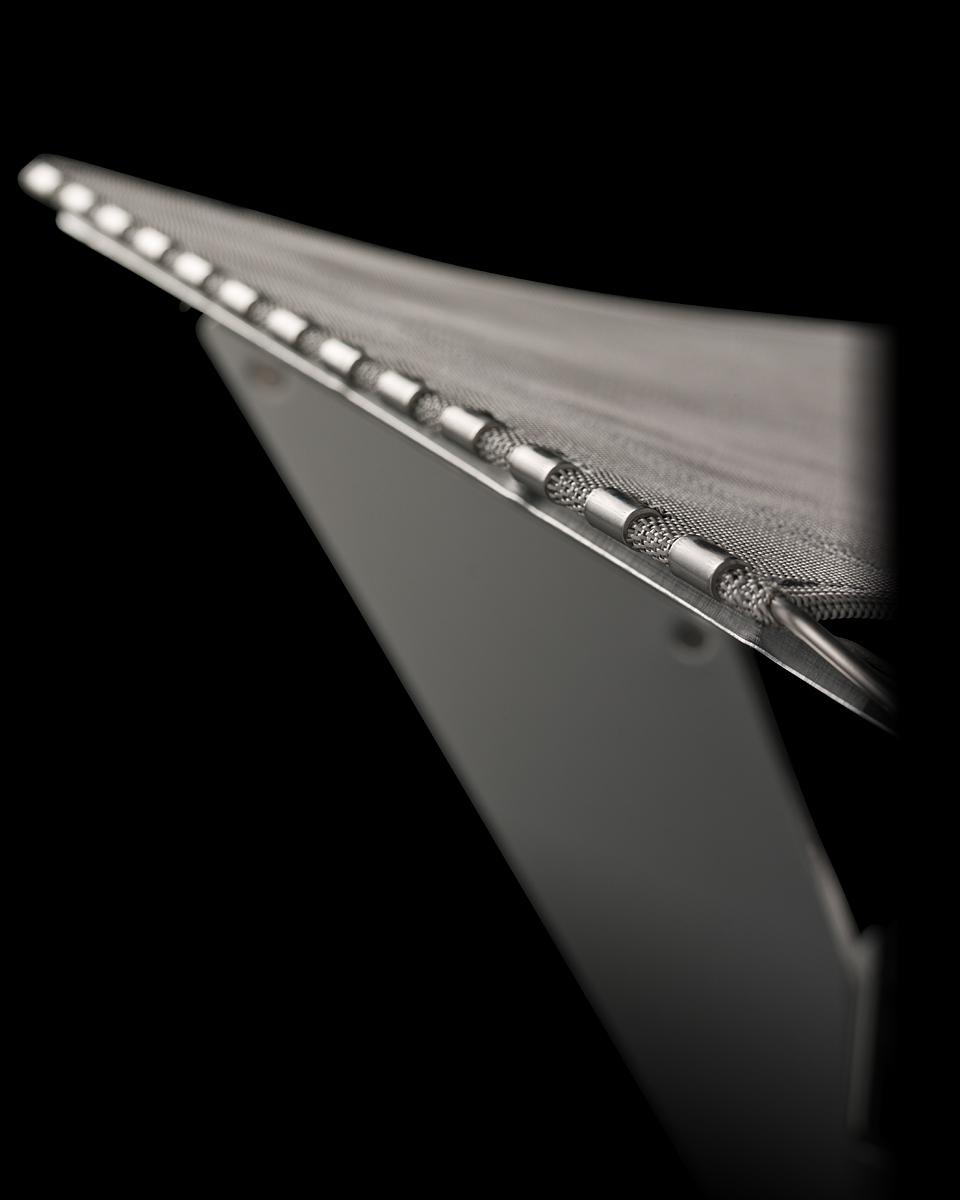 SILVER FRAME

TEXTURED SILVER BACKREST LAMINATE

GLOSS RED BACKREST LAMINATE

GLOSS WHITE BACKREST LAMINATE

GLOSS BLACK BACKREST LAMINATE

PLATINUM SILVER

OLIVE GREEN

RED ORANGE